Learn how to customize your own restaurant-style Vietnamese Chicken Noodle Bowls (Bún Gà Nướng) at home with this easy recipe!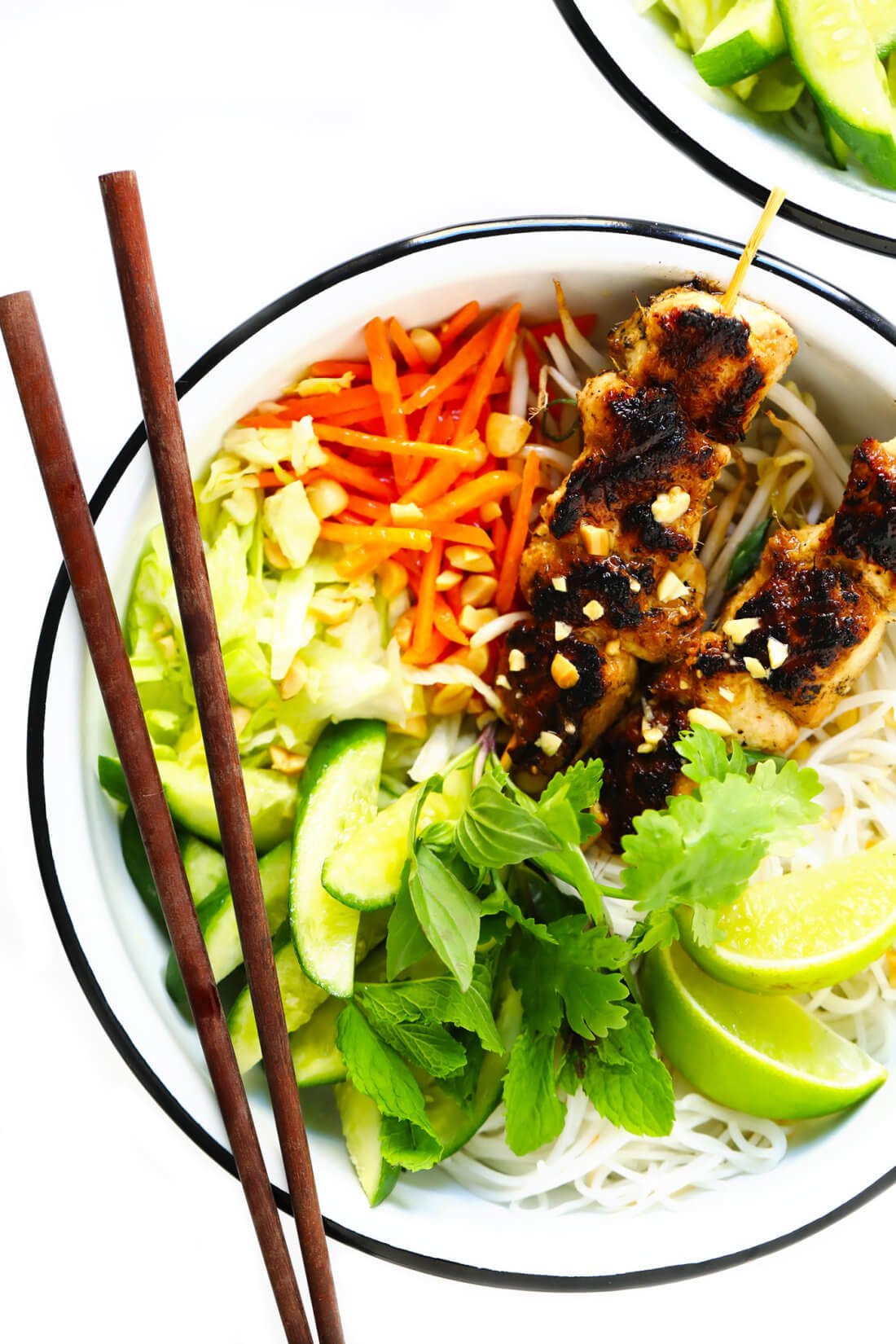 Raise your hand if you're obsessed with ordering big bowls of noodles when you go out for Vietnamese!
Meeee too. ♡♡♡
I always have major menu FOMO when trying to decide between between ordering a steaming hot bowl of phở (noodle soup) or a light and refreshing bowl of bún (noodle salad).  But hey, I've got good news for us all this season — I'm happy to report that I've finally figured out how to make both of these faves at home!  And I mean legit pho and bun recipes that taste just like the restaurant, not those close-but-not-quite homemade recipes that make you wish you had just gone out for the real deal.  I'll report back on the pho soon, both for you meat eaters and vegetarians.
But today, let's talk about how to make bun!  This Vietnamese noodle bowl recipe is made with all of the classics — thin rice vermicelli noodles, your choice of protein, fresh veggies piled high, lots of fresh herbs, and everyone's favorite nước chấm (Vietnamese dipping sauce).  But if you have an extra 30 minutes to marinate your protein, holy yum, you've gotta try using the lemongrass marinade that I shared on the blog yesterday.  My favorite Vietnamese restaurant back in Kansas City always used to make their bun bowls with lemongrass chicken and the extra kick of fresh flavors made these bowls downright irresistible.
That said, though, the protein in these noodle bowls is completely up to you.  I made this batch with chicken, because it's always what you all request most. ♡  But beef, pork, shrimp or tofu would also all be delicious.  The type of noodles and veggies you use can also be completely customized according to what you love best.  And for all of you fellow natural sweetener lovers, I'm also happy to report that the nuoc cham can be easily made with honey or maple syrup when you make this sauce homemade (versus the loads of sugar that are often included in restaurant versions).
Oh, and the other bonus?  These bowls taste fantastic served warm or cold.  And I can vouch that they make for fantastic easy meal prep lunches (or dinners!) for the week ahead.
Alright, enough chatting.  Let's make some Vietnamese noodle bowls!