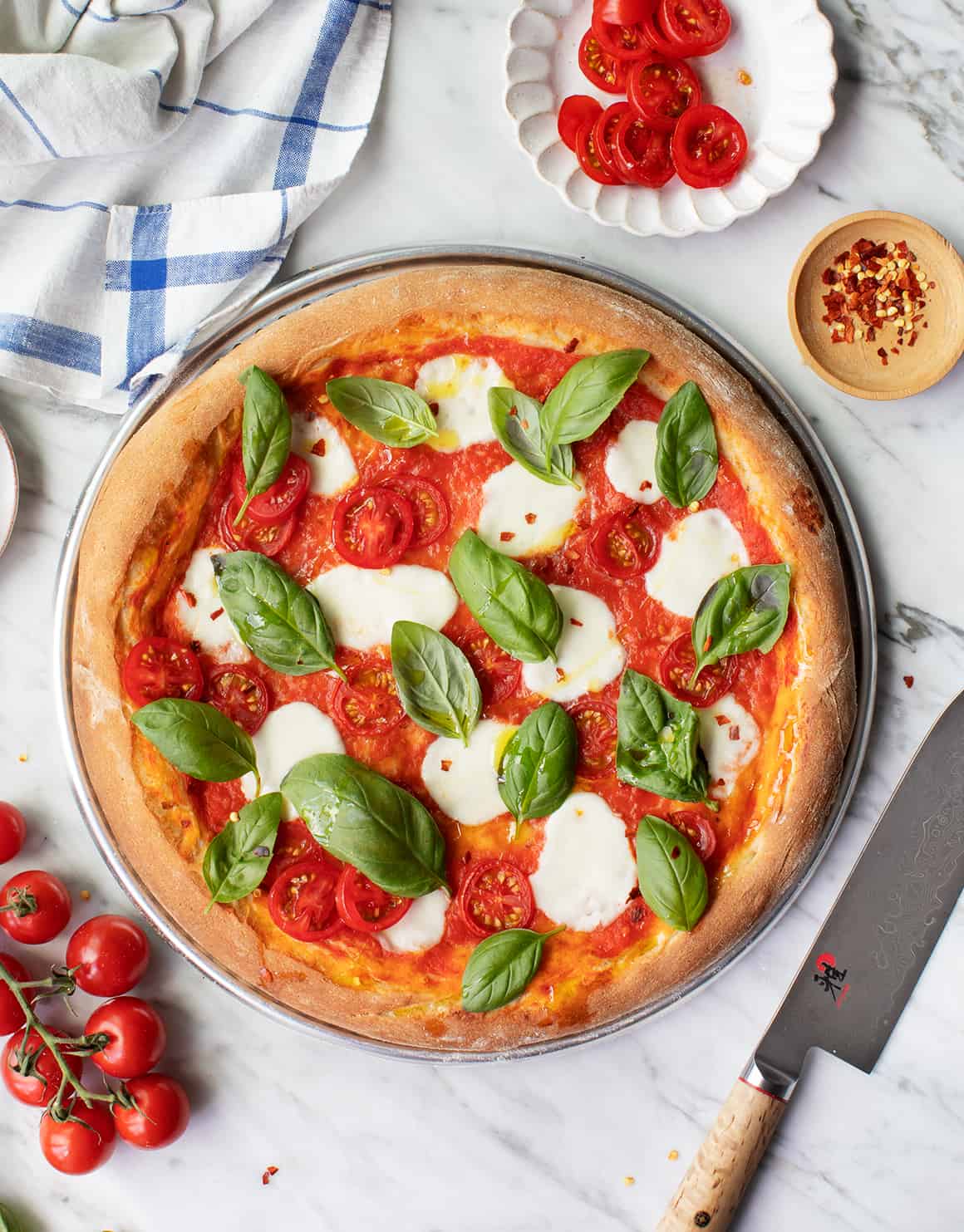 A simple Caprese salad is one of my default dinners in August, so naturally, when I start craving more substantial meals in September, I turn to its heartier cousin: the Margherita pizza. Like Caprese salad, Margherita pizza stars fresh basil, mozzarella, and the best tomatoes you can find. It's still a delicious, simple showcase of good quality produce, but the addition of crisp, chewy pizza crust, melty cheese, and warm sauce makes it a cozier, heartier meal.
I don't know about you, but I'm not ready to go into full pumpkin and soup mode yet. Our farmers markets are still boasting juicy tomatoes, and our backyard basil plant is still chugging along, so we might as well enjoy them while we can! This homemade Margherita pizza recipe uses only 7 basic components, so good tomatoes are a must. It'll be on repeat around here for the next few weeks, while we can still get our hands on A+ tomatoes.
We really love this one; I hope you do too!
My Margherita Pizza Recipe Ingredients
With only 7 components, my homemade Margherita pizza recipe is fresh, comforting, and easy to toss together any night of the week. Here's what you'll need to make it:
Homemade pizza dough. I use my go-to homemade pizza dough recipe. The chewy/crisp crust is delicious under the juicy tomatoes and melty cheese.
Homemade pizza sauce. I use a food processor to blend together a 5-ingredient tomato sauce with San Marzano tomatoes, and I don't cook it before spreading it on the pizza. As a result, it has a delicious, sweet flavor that complements the fresh tomatoes perfectly.
Cherry tomatoes. Rather than use large tomatoes here, I opt for cherry tomatoes. They're less watery and have a more concentrated flavor than bigger varieties would, so they give this pizza a great taste and texture.
Fresh mozzarella cheese. I seek out fresh bocconcini mozzarella for my Margherita pizza. You can use any fresh mozzarella in a pinch, but bocconcini mozzarella comes in nice, medium-sized balls. When you slice it, it matches the size of the cherry tomato slices, which makes for a pretty pizza.
Fresh basil. Sprinkle it over the pizza after it comes out of the oven, so it doesn't burn or brown! For more basil goodness, a few dollops of pesto would also be delicious.
Extra-virgin olive oil and red pepper flakes. The perfect finishing touches!
Stretch your dough, spread on the sauce, and layer it with the thinly sliced mozzarella and tomatoes. Bake until the cheese is melted and the crust is golden, and add the remaining pizza toppings: a shower of fresh basil leaves, a pinch of red pepper flakes, and a generous drizzle of extra-virgin olive oil.
Slice, and enjoy!
If you love this Margherita pizza recipe…
Try my vegan pizza, zucchini pizza, blackberry basil pizza, spinach artichoke pizza, or any of these homemade pizza recipes next!
Click here to browse more recipes!
The post Margherita Pizza appeared first on Love and Lemons.